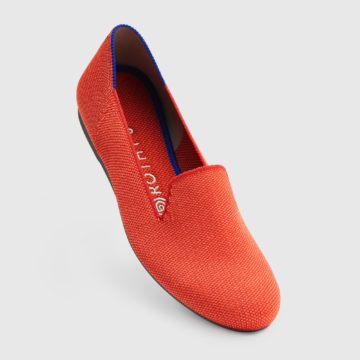 Rothy's Footwear And The Circular Economy
Why Style And Comfort Makes A Sustainable Company.
Rothy's, a womens footwear brand, is the 'holy grail' of shoes. Their products looks great, are super comfortable and are made of recycled materials that help to reduce environmental impact. Rarely does a product deliver on all three criteria and it is why Rothy's is one of the top Circular Economy brands.
While making  sustainable shoes is great, the truth is, sustainability is a secondary consideration to the consumer when compared to fit, function, utility, design, style and pricing. Historically, products that were 'eco friendly' tended to compromise on comfort, performance or style in one way or another. To the chagrin of some companies, it has been proven that people are not willing to pay more for something that performs the same (or in some cases perform worse), for a product that is sustainable. Certainly sustainability can be used as part of the brand's story, but is not a factor to compete on when the product does not perform as well. The founders of Rothy's recognized this from the beginning and realized that in order to make a successful brand that was also sustainable, they had to make stylish footwear that was comfortable above all else.
How Rothy's Is Setting A New Circular Economy Standard For The Footwear Industry
Fortunately, the industry has reached an inflection point where recent advancements in recycled material manufacturing has allowed these 'eco' materials to meet performance standards. It is efforts like Rothy's, who worked for three years to pioneer a fiber from recycled bottles for use in a 3D knitting machine, that allows for sustainable products to be both comfortable and fashionable. To date they have repurposed over 20 million plastic bottles.
Additionally, their shoes feature an environmentally-friendly recycled carbon-free rubber outsole, and insoles made of recycled plastic and recyclable foam. The result is a shoe that has no seams to cause blisters, a highly breathable upper that feels soft, and a cushy footbed that is as comfortable as the leading brands.
The use of all these recycled materials would fall short if they didn't last. A key testament of the Circular Economy is ensuring that a product lasts as long as possible. This means that the product is not only durable, but is also resilient to fast fashion trends. In many ways Rothy's product longevity is an understated story that in fact sets them apart from others. Since their products are primarily made from one of the most resilient man-made materials, plastic, they are inherently highly durable. Rothy's ensures that they only use recycled plastic that helps keep waste out of landfills while cutting demand for petroleum. The use of this robust material enables it to withstand many wash cycles in a standard washing machine, making them look like new every time they are washed. This is good because you'll want to wear these shoes for nearly any occasion. Due to their timeless design you can and will wear them for years to come.
When the time comes to part with your shoes, Rothy's provides a pre-paid envelope to ship back your old shoes so that they can be recycled into new ones. This is possible impart to their minimalist design approach that makes use of uniform materials and only a handful of components.
The response by customers has been overwhelmingly positive. They've received hundreds of top reviews and just as many videos and social media posts raving about how great these shoes are.
Rothy's fashionable, everyday, go-anywhere shoes made from recycled materials has set a new standard that the footwear industry should take note of.
Originally published on Brilliantly Made. 
Photo Credit: Rothy's Footwear